Hello little bloggy world! So You may have seen on Facebook that I decided to join my friend in the Beachbody world and become a coach. I wanted to write a blogpost to elaborate on why and what it is. (and some other stuff at the very bottom)
WHY AM I DOING THIS?
My good friend Jenna has been dedicated to losing weight the past couple months or so. She bought PiYo through Beachbody to mix things up and ended up absolutely loving it. She began with weightwatchers and jogging and such, but since starting PiYo and being part of the Beachbody team has seen AWESOME results and is really loving working out and being healthy-which is key to achieving a goal. So, HER success motivated little old me to try out PiYo. Since I'm pregnant it will be harder to SEE the results, but I'm determined to stay fit through my pregnancy so that 1) I can have a better labor and 2) I won't have to work as crazy hard to get my regular body back post-pregnancy.
Jenna let me share her Before & After pictures. Her after picture is after only 2 weeks of doing PiYo!
So I bought a Challenge Pack which got me a month's worth of Shakeology and PiYo for only $10. The Shakeology is a liiitle expensive, but from everything I've been reading and hearing about it I'm pretty stoked to try it out. I'm going to use it as a nutritional supplement for my lunches because I am really awful at eating a filling lunch. I usually just snack on things and then end up getting all shaky if I have to go anywhere afterwards (I think it's a pregnancy thing).
WHAT IS PIYO?
PiYo is pretty much just what is sounds like-a Pilates/Yoga fusion program. This particular program from Beachbody is brand new and just came out a month of so ago. In the words of Beachbody--"Chalene Johnson took the very best Pilates and yoga-insipred moves and cranked up the speed to give you full throttle cardio, strength, and flexibility training--all at once. PiYo packs it ALL into each workout so you can build muscle mass-as you're burning crazy calories."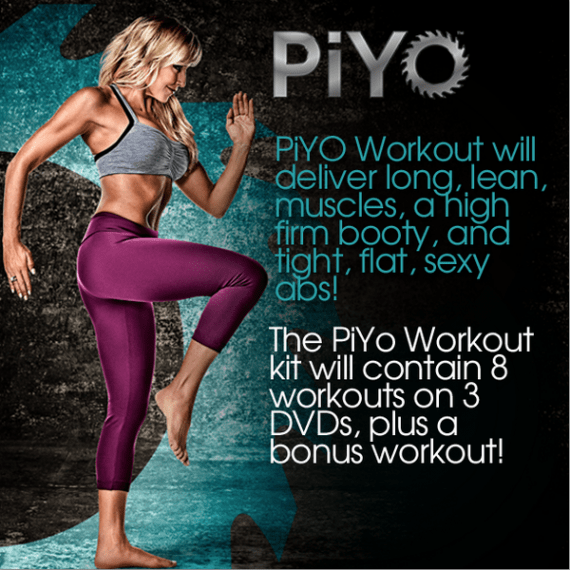 WHAT IS SHAKEOLOGY?
First of all, it's all natural. It's made up of over 70 fruits and veggies and gives you your daily recommended dose in ONE packet. Sure, eating your actual fruits and veggies may be better, but for me that is hard to do everyday (esp the veggies!). The drying process of the fruits and veggies Beachbody uses is one the best in preserving all of the nutrients. There are a variety of flavors to choose from: Strawberry, Chocolate, Vanilla, and Greenberry as well as vegan options. Shakeology can be used as a nutrition supplement or as a weight loss supplement (meal replacement). If you are using it everyday a months supply is $129 which breaks down to about $4 and some change. But if you are using it as a meal replacement thats a pretty cheap & healthy meal! I also hear this has helped people's energy levels so I'm hoping for that as well.
Anyways, that is what all the buzz is about! If you want to get serious about getting fit and healthy we also have some great motivational Facebook groups for people who buy, where people can post their workout, share meal ideas and have some accountability.
I really hate being a sales person to be honest. I absolutely hate pushing things down people's throat and I promise to not do that! But I would like to share how I am liking the products as I'm using them and being a part of the Facebook group has already helped me to feel motivated. If you have any questions or are interested you can email me-- mickelleb@gmail.com. Or if you want to get crazy and buy something the PiYo sale goes through the end of July and you can buy right here-->>
http://www.teambeachbody.com/mickellem
and click SHOP.
Now enough about that!
I'm will be going out of town the next week to a little island called Fiji. Pretty excited.
Also, let me tell you one reason living on a military base overseas is sometimes not ideal. You're mailing address is an FPO box at the post office that is a 20 minute drive away. You order some things from Asos like a maternity swimsuit and dress and shirt and are so excited to get it that you start going to the post office everyday thinking--it HAS to be here today. So that's a 40 minute round trip. You check you're mail everyday and there is NOTHING. Or some junk mail, OR there is a package and you get your hopes up only to find out, nope not Asos. Oh, did I mention I ordered this package on June 4? You go on a 2 week vacation thinking, it HAS to be here...nope. In Asos defense they are sending me a replacement package...still waiting for that one too. My life is so hard!!!!! ;)
Thanks for reading the longest blog post ever. xoxo